OWECAROSE FIRST FLIGHT
OUR HOPE FOR THE FUTURE
DOB: 24th AUGUST 2020
HD: TBA ED: TBA
HEIGHT: TBA WEIGHT: TBA
MDR1 +/+ (FREE)
DM: N/N (FREE)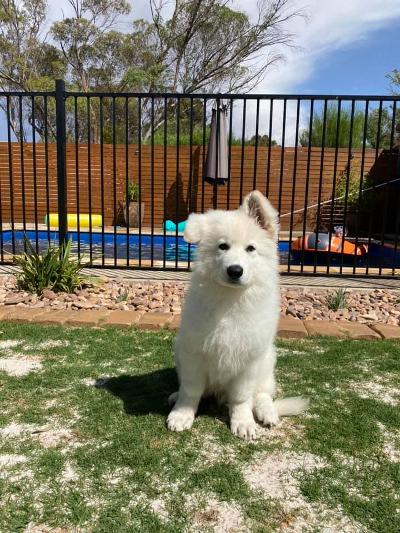 Orville is a very special guy we have been planning for a very long time. His sire is Brando, a dog who needs no introduction. One of the most correct Swiss I have ever seen and without doubt one of my all time favourite males.
Orville's dam is our very own Bennett, from our C litter. We knew from the beginning that we may only have one litter with BenBen so we wanted to make sure we made the best possible pairing and we have been blown away.
Orville has an incredibly outgoing personality, he loves All of the attention All of the time. He has lovely conformation, a pure white coat and incredible pigment, some of the best we have seen in any Owecarose pups.
Orville lives the good life with his mum Bennett, my sister and her family. He has just began his show training and i can't wait to hit the show ring with him at the end of my lead although it will probably have to wait until 2021