CH LAURÉATE DU FLOCON D'ARGENT (IMP FRA)
AUSTRALIAN CHAMPION
DOB:1ST JULY 2015
HD: AA ED: 00
HEIGHT: 61CM WEIGHT: 30KG
MDR:1 +/+ FREE
DM: N/N FREE
FULL DENTITION
FULL BREED PROFILE
Bred by Marion Galliano & Max Nurdin, France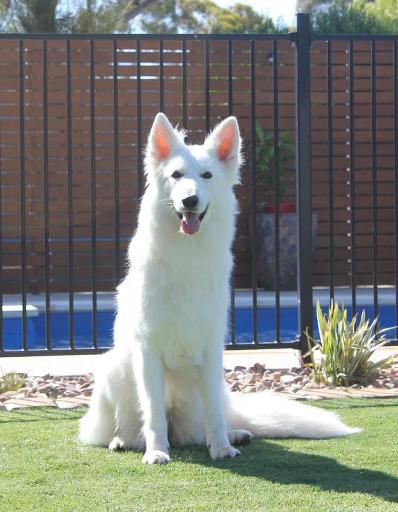 Introducing our newest family member Lauréate, all the way from France. Lauréate is in co-ownership with myself and Rhiannon Stockdale from Saffioraire White Swiss Shepherds in Victoria and will be living with us in South Australia.
Rhiannon and I first began looking for a girl to bring to Australia together quite some time ago and in late 2014 we found some very exciting litter plans which had us both in immediate agreement, this was exactly what we had been waiting for. A dog with such an impressive pedigree does not come along too often, we are so very lucky to have such an outstanding girl for our future breeding programs.
Lauréate is everything we had hoped for and more. She has an outgoing & friendly temperament, clear from common breed specific genetic diseases, top hip and elbow scores, a bright white coat, lovely dark pigment, dark correct shaped eyes, full dentition and is a wonderful mover. She is still growing however we can already see just how lovely her conformation is with a lovely length of body, straight topline and great angulation. We cannot wait to see her hit the show ring in Australia.
A huge thank you to our girls breeders Marion and Max. They have been so supportive and helpful from the very beginning and have given Lauréate the most amazing life before her big move. Importing a dog really is a team effort and we are so grateful to have been on this adventure together and so proud that you have entrusted us with her.